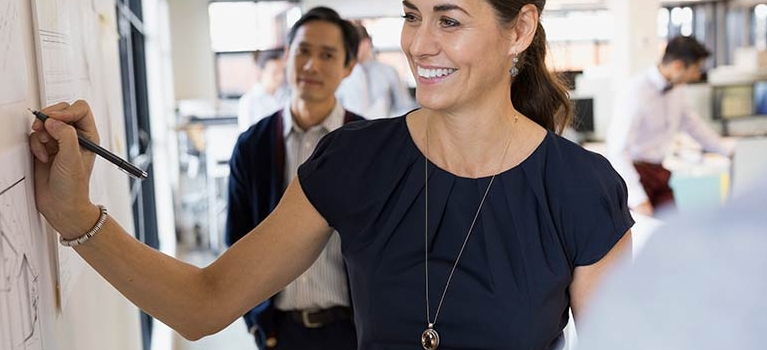 Expect more from our maternity programs.
At Texas Health Aetna, we want to provide all our moms-to-be with the personal support and resources they need to stay informed and healthy through pregnancy, birth and beyond. That's why we offer a range of member services at no additional cost to help you, your family and the little life you're carrying, wherever you are in your journey.
Managing at-risk pregnancies.
Run by experienced nurses, the Aetna Maternity Program offers personal support for moms-to-be with conditions that put them and their babies at risk. Through focused case management, regular contact, mailing and online resources, we provide advice, materials, counseling, and information to help you:
Know more about prenatal care, labor, delivery and newborn care
Understand signs and symptoms of preterm labor
Stop smoking or other harmful habits
Manage the risk factors associated with pregnancy
Introduce and maintain healthy lifestyle changes and goals
Plan child's immunization and vaccination schedule
To enroll or find out more:
Call us at 1-800-272-3531 weekdays from 7am to 6pm CT
Log in to your member profile and complete the survey
Classes to prepare and care.
With help from our partners at Texas Health Resources, we've arranged a variety of online, virtual (real-time) and in-person classes that help you understand and get ready for childbirth and caring for your newborn.
Free Online Pregnancy Class
An interactive class with information and advice on your baby's development, nutrition, exercise, discomforts, hazards to avoid, emotions and tips to help your partner.
Register for the pregnancy class
Prepared Childbirth and Natural Prepared Childbirth
Two separate classes depending on your chosen method, covering all you need to know about labor and birth, support techniques, medications, breathing, movements, and postures. There's also a related class for couples who are expecting twins, triplets or more.
Find Prepared Childbirth classes
Find Natural Prepared Childbirth classes
Coping Skills for Labor
For parents who've attended the above, and want to learn more about comfort measures and positioning to help manage labor.
Find Coping Skills for Labor classes
Caesarean Birth
This class reviews why Caesarean births are sometimes needed, emotional and physical support for mothers, and post-birth process and care.
Find Caesarean Birth classes
Discover more preparation and care classes
Caring for your baby.
These classes help you get to know your newborn, and how to ensure you both get off to a great, healthy start. You'll learn everything from Baby Care Basics (bathing, diapers, swaddling, safe sleep) to Breastfeeding Basics, Breastfeeding for Working Moms (prep during maternity leave, pumping and storing) and how to soothe your baby and help them sleep with Happiest Baby on the Block.
Keeping baby safe.
We offer classes that teach first aid, CPR, injury and choking prevention for infants, as well as courses on babyproofing the house, risk factors for SIDS, choosing safe baby gear, car seat installation and safety. Including the family.
Find Baby Safety classes
Including the family.
We're happy to provide classes that help big brothers and sisters (from 3 to 7), grandparents and dads prepare for the changes to family life: the kids express their feelings about the new arrival and create an art project, while the grownups learn how to keep the baby safe and how to help and support mom.
Find classes for grandparents
Find classes for dads
Keep feeling fit.
Moms-to-be can take yoga, cardio and water fitness classes, as well as safely rehabbing their abs and pelvic floor muscles. We have additional options for mom and baby to work out together (and kids up to 4 years old) in aerobic, cardio classes, plus fun water fitness for babies of 4 to 12 months, and a mom and baby yoga class.
Find fitness classes
Discover more baby care classes
Online and digital ways we can help.
Access the Aetna Maternity Support Center.
A plentiful resource containing information, health programs, discounts and incentives for moms to be, couples planning a family, and new moms. This helpful hub will be there for you from pregnancy through delivery, coming home and beyond, with plan-specific insights on costs and tests, educational videos and the latest expert clinical content.
Get access:
Select "Health and Wellness"
Select "Maternity Support Center"
Our Pregnancy Planning Guide.
This free guide includes plen! of tips and information to help couples on their journey to becoming parents.Text BABY (BEBE en español) to 511411.
Get the guide
Get baby emails delivered.
A regular series, popping into your inbox for moms-to-be (from 6 weeks pregnant) to moms of kids up to 3 years old, offering information about classes, arriving at the hospital, newborn care and more.
Sign up here
Use the Texas Health Baby App.
This convenient app includes information about what moms can expect for their hospital experience and beyond, including helpful contacts, prenatal and postpartum education.
Get the app
Keep close with community.
Join our Texas Health Moms Facebook Group.
This is the place to meet and find moms and moms-to-be talking about their experiences, discussing everything about pregnancy, birth and babies, swapping tips and asking questions about baby products, pediatricians, procedures.
Sign up for our Moms Facebook group
Meet up at our Mommy Mixers.
These groups meet virtually and are a great way to meet other new mothers who are experiencing the same celebrations and frustrations all new moms encounter.
Sign up here to receive an invitation to attend a virtual meeting
Support for depression and loss.
When new moms are dealing with the post-baby blues, or families suffer the heartbreaking loss of a child, there are several compassionate, experienced people they can turn to.
Postpartum Support Group (Plano)
Texas Health Plano offers a free support group for women dealing with depression after giving birth, offering personal support, encouragement and resources. The group meets virtually every Tuesday from 7-8:30 p.m.
Texas Health Behavioral Health
Serving our North Texas communities for more than 30 years, Texas Health provides a range of behavioral and mental health services from one-on-one coaching to treatment for anxiety, depression and grief.
Visit Texas Health Behavioral Health
Postpartum Support International
An established, well-regarded organization whose trained facilitators specialize in helping bereaved mothers with loss during pregnancy or infancy though support groups and counselling that provide an avenue for healing and hope.
Visit postpartum support international
Tommy's Together
An established, well-regarded organization in the United Kingdom whose trained facilitators specialize in helping bereaved mothers with loss during pregnancy or infancy though support groups and counselling that provide an avenue for healing andhope.
Visit Tommy's Together
Infant Loss Resources
An established, well-regarded organization whose trained facilitators specialize in helping bereaved mothers with loss during pregnancy or infancy though support groups and counselling that provide an avenue for healing and hope.
Visit Infant Loss Resources
Share
A welcoming, healing community for anyone who has experienced the loss of their baby.
Visit Share
Health benefits and health insurance plans are offered and/or underwritten by Texas Health + Aetna Health Plan Inc. and Texas Health + Aetna Health Insurance Company (Texas Health Aetna). Each insurer has sole financial responsibility for its own products. Texas Health Aetna are affiliates of Texas Health Resources and of Aetna Life Insurance Company and its affiliates (Aetna). Aetna provides certain management services to Texas Health Aetna.
Self-funded plans are administered by Texas Health + Aetna Health Insurance Company.
This material is for information only and is not an offer or invitation to contract. An application must be completed to obtain coverage. Health benefits and health insurance plans contain exclusions and limitations. Providers are independent contractors and not our agents. Provider participation may change without notice. We do not provide care or guarantee access to health services. Not all health services are covered. See plan documents for a complete description of benefits, exclusions, limitations and conditions of coverage. Plan features and availability are subject to change and may vary by location. If you are in a plan that requires the selection of a primary care physician and your primary care physician is part of an integrated delivery system or physician group, your primary care physician will generally refer you to specialists and hospitals that are part of the delivery system or physician group. Information is believed to be accurate as of the production date; however, it is subject to change.
Aetna, CVS Pharmacy® and MinuteClinic, LLC (which either operates or provides certain management support services to MinuteClinic-branded walk-in clinics) are part of the CVS Health® family of companies. For a complete list of other participating pharmacies, log in to texashealthaetna.com
Physicians on the medical staff practice independently and are not agents or employees of the hospital or Texas Health Resources.
©2023 Texas Health + Aetna Health Plan Inc. & Texas Health + Aetna Health Insurance Company